About Shanthivanam
Shanthivanam is an initiative of a group of likeminded individuals to protect conserve and propagate Native trees and plants with special emphasis on Rare, Threatened and Endangered species. In addition to Normal Tree plantation programs like Avenue, Livelihood and Mass plantations in protected areas like educational institutions, Government and Private spaces our core mission is to increase the area under medicinal plantation.

Our team consists of people from different walks of life but united by a common cause of caring for the environment.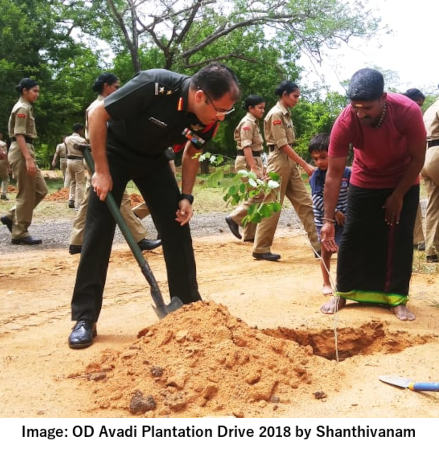 ---
Millions of people all over India still depend upon the traditional medical systems like Ayurveda, Siddha and Unani. These systems traditionally relied on collecting the plants and different parts of the trees from the wild. However because of massive commercial exploitation a number of such species have been extremely marginalized and some are on the brink of extinction.
A 2010 Survey highlighted the fact that 93% of the wild medicinal plants are endangered which is very worrying. We may soon face a situation where we know what cures an ailment but we will not be having the plant material to effect that cure. Another recent survey has shown that close to a thousand such medicinal plants and trees are either Rare, Threatened or on the brink of Extinction.
The Government of India has taken serious initiative to restore the imbalance. However the task before us is so huge we need a lot of private players to step into this area to retrieve lost ground. It is here that Shantivanam steps in to take the initiative to Individuals, Businesses and other NGOs so that it can be made a mass movement. Join Hands with us in making this a huge success .
Our Mission is to plant 1 billion(1000000000) trees in India.
Our vision is to become a leader in tree planting services to build a green future for our future generations, provide them with a hospitable environment, and to set them free to breathe in a clean air by saving Mother Nature and planting more trees.